TF2000 AND THE INNOVATION
Innovating is essential for our company, which has stood out ever since its establishment for its ability to come up with new solutions offered to the textiles industry, in terms of techniques, procedures, aesthetic effects and finishes in line with the latest fashion industry trends.
Innovation is a transversal process in our company, involving strategic figures in achievement of key objectives:
the search for sustainable alternatives
the choice of raw materials
process management
One of the main goal of any initiative we undertake is the reduction of resource consumption, obtained through proactive research and development, adoption of new technologies and paying particular attention to creating a  virtuous circle through sustainability and digital transformation.
Research and Development: a continuously evolving process
Our Research & Development department has always been committed to experimentation and fine-tuning of treatments and services which, if evaluated as satisfying, enrich our continuously evolving set of services offered.
The input for our R&D work comes from:
market observation, for capturing emerging needs, changes in taste and available options for satisfying customers' needs better
customers' specific requests, working in partnership on specific projects.
Here are some of the new products we have recently developed and launched on the market, some which we are still working on.
Fulled cotton: high-performing, low environmental impact cotton jersey
Fulled cotton, a creation of our R&D team, is a jersey made of 50% recycled cotton fibres with the look and feel of felted wool.
It is produced with very low water consumption compared to the amount of water necessary to treat wool, limiting the environmental impact of the finished product. The chemical products used are certified to high standards of sustainability. In every phase in production, the consumption of water, electricity and dye is much lower than the classic process of producing felted wool with conventional printing.
Moreover, our Chemical Management 4sustainability® system ensures that processes comply with MRSL ZDHC version 2.0, aimed at eliminating harmful and toxic chemical substances from production processes. 
Fulled cotton, the product of our unique combination of experience, mechanical and chemical expertise and imagination, has been very well-received, and it is now produced in new versions. Digital InkJet printing, a low-impact technology in which we specialise, allows us to transform the classic look of the fabric with patterns and graphics of our own design, offering a quick, flexible response to the ever-changing fashion trends and demand for customised designs and complex images.
Fulled cotton is also used as a base for innovative processes such as lamination, ecological waterproofing and digital InkJet printing.
Sensi Chrom: fabrics that change colour according to pH
SensiChrom technology allows us to produce active smart materials through industrial development of dyeing processes, making fabrics capable of responding to external stimuli such as changes in pH.
This particular feature has a number of immediate technical applications and potential future developments:
Furnishings: SensiChrom permits creation of textiles that change colour depending on how they are washed. This property would make it possible, for example, to switch to dark colours to darken spaces in sunny summertime and brighten them up again with pale colours in winter, when there is less sunlight.
Medicine: production of bandages which change colour in response to changes in the pH of the wound, permitting early detection of infections and rapid treatment with antibiotics. There is in fact a relationship between the pH of a wound and the probability of infection. The skin's pH is normally slightly acidic, between 4 and 6, allowing it to play an important role as a barrier to the proliferation of pathogenic bacteria. An increase in the skin's pH can dramatically compromise this protective action of the skin, particularly in the presence of traumas or wounds, atopic dermatitis, irritation or illness.
Sensi Chrom is an example of a smart textile achieved under the "Innovation of the productive system" and "Innovation for health" projects of the Piedmont Region, meant to transform and reinforce the traditional sectors of the Piedmont industry through product innovation and response to the challenges imposed by societal change.
Sirtaki: hi-tech racing garments that monitor drivers
Sirtaki is a project undertaken with the goal of developing a system for improving the performance of hi-tech clothing for competitive motorcycle racing.  It includes
Demand for development of active garments for temperature control arises from the finding that the thermal stress the driver suffers during a competition can compromise performance, undermining psycho-physical abilities and therefore safety.
The prototype and design solution, for integration into racing suits, in compliance with safety standards and sporting regulations, will be capable of: 
– measuring critical physiological parameters (temperature and humidity of the microclimate)
– comparing the values acquired with threshold values
– implementing corrective actions to bring the physiological parameters back in line with the threshold values
Sirtaki is a particularly complex project incarnating a number of trends in hi-tech innovation in the textiles industry. It not only satisfies the need for sportswear that aids performance and prevents accidents but responds to the trend toward miniaturisation of electronic components and the desire to be increasingly connected thanks to wearable technology, which allows people to wear devices that interact with the user and supply information such as biometric parameters or data on athletic performance.
Integration of electronic circuits into items of clothing presents a number of objective difficulties due to the huge difference between fabrics and electronic components: fabrics are flexible, porous and breathable, while electronics are rigid, massive and occlusive.
Moreover, electronic components can suffer from interference and damage when worn by users who move about and deform the circuits, often in environments affected by electromagnetic pollution.
We believe that a company must play an active role in a number of ecosystems: the ecosystem of people who form the company and allow it to grow, and the ecosystem of the community in which it is located, with its institutions, associations, and schools, with which it is important to maintain authentic dialogue bringing benefits to all participants.
At an even higher level, we see ourselves as a node in the network of the textiles industry, along with other companies and their specific features, trade associations, and projects that make both collective heritage and know-how grow.
MagnoLab: a network of enterprises developing concrete innovative solutions
We are among the founders of MagnoLab, a network of companies established in 2022 with the goal of working together and combining their know-how to make a real contribution to the growth of the textiles industry. With a growing network of companies fulfilling complementary roles at various stages in the supply chain, we work together for the development of concrete solutions that will help the industry grow and generate value and collaborate for responding to both current and future needs. 
The network of companies is a legal instrument that allows us to pool our know-how and develop a structured, participatory form of innovation, with a special focus on innovative projects and products for sustainability and the circular economy.
The resource that allows us to achieve our strategic goal of rapid, streamlined experimentation cycles is the availability of a series of pilot plants installed in the factory in Cerrione (Biella), where we can work together in a context faithfully representing industrial production, producing prototypes and experimenting with solutions that will then be transferred to the plants of our partner companies for implementation in serial production.
This allows us to experiment with the various phases in textiles production, from fibre preparation to spinning, weaving, dyeing, finishing and tailoring.
MagnoLab also offers an opportunity for companies to connect with the world of textiles and fashion education, on the basis of real projects aimed at innovating.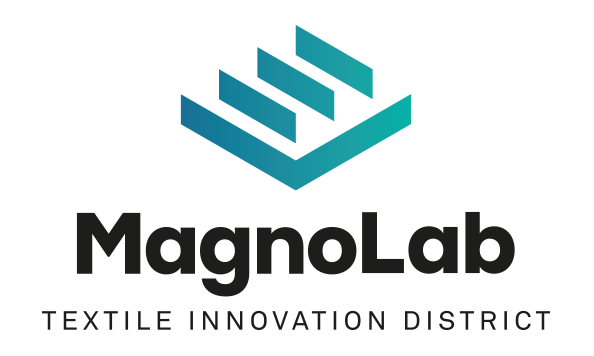 Slow Fiber: a network of textiles manufacturers promoting the creation of beautiful, healthful, clean, fair and long-lasting products
Founded in 2022 by Slow Food with a number of textiles companies that wished to be the face of positive change through sustainable production processes, Slow  Fiber is a network established to promote the creation of beautiful, healthful, clean, fair and long-lasting products with respect for the dignity of human beings and the delicate balance of nature.
Slow Fiber aims to promote awareness of the impact of textiles on the environment, on workers within the industry and on consumers' health, by promoting a new ethic and culture of clothing and home fabrics.
In the context of Slow Food, it supports campaigns promoting awareness through the testimony and direct participation of companies that produce textiles in an environmentally and socially responsible way. Slow Fiber promotes a model of textile production and marketing based on quality, circularity and dignity, encouraging a new awareness among consumers.
Supporting education in textiles and fashion
In our industry, the transmission of knowledge from generation to generation is of essential importance to preserve the heritage and know-how acquired over the years, which constitutes the essence of Italian "how-to".
Supporting education is one of the most effective ways through which we, as a company, can assist this process and encourage young people to approach the world of textiles, helping them to discover the potential for growth and career development that it offers.
We are a partner of ITS TAM  (Istituto Tecnico Superiore Tessile Abbigliamento Moda), a technical institute in Biella with a focus on textiles and fashion, and of Accademia Costume & Moda in Milan. We work with both institutions on specific projects, educational initiatives and tours in our plants.
We are open to new partnerships of this kind.
Innovating in wool treatments with The Woolmark Company
We are a partner of The Woolmark Company, the global authority on Merino wool, a non-profit institution connected with Australian Wool Innovation concerned with research, development and marketing throughout Australian wool global supply chain.
We have a well-established partnership aimed at studying innovative sustainable processing and finishing techniques specifically for wool.
In support of our community
We believe that a company must play an active role in the community around it and among the people who live there. We cultivate our bonds with the Biella area through participation in and support for a number of cultural, social and sports initiatives; our most recent sponsorships include:
Care and restoration of the Church of San Teonesto in Masserano and of the Conca di Oropa ecosystem
Organisation and sponsorship of the MUC FUN TRAIL, the most entertaining trail running event in the mountains around Biella
Support for organisations concerned with assisting and supporting people and social initiatives in the Biella area